Our days in the Roubaix area at an end, nine o'clock found the boys ready and waiting at the lock and Gratis was raring to go.
Lines off, down she motored and straight as an arrow in went Big G.
What a beautiful old bridge was this!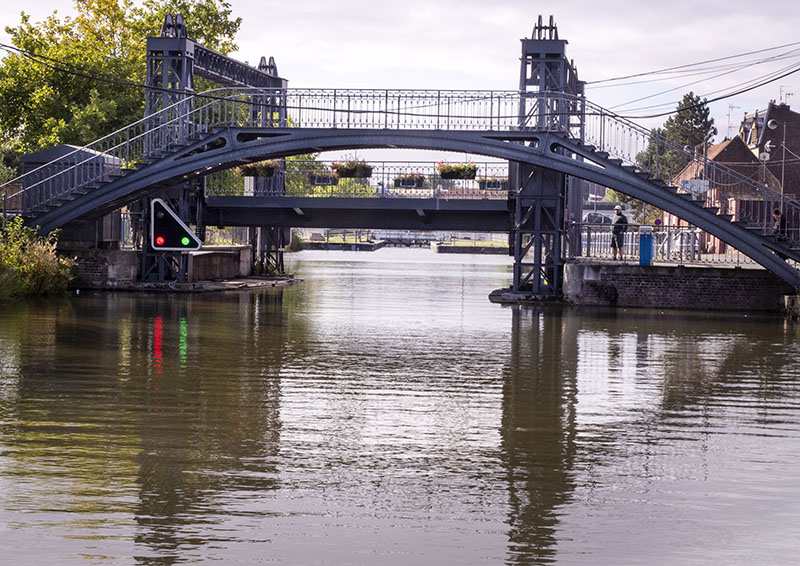 On exiting Lock 11, we were greeted with the sight of waterlily lined canal.
It's always a peaceful sight watching the pads as they gently wave gently in the stream as Big G passes them by.
In fact, the locks on this last five kilometres were a breeze: it always is when going down. The only hiccup occurred when exiting Sartel, the last of the French locks. Depth was good at 1.9m, but all of a sudden there was a clunk and a jerk as our girl hit, then ran over some monster lurking below. Whatever it was, it left some item wrapped around the prop, but with some rapid reverse/forward thrusts, the unknown article was freed and our girl continued forth.
An additional day or two at Grimonpont would have been delightful, but with the season's end fast approaching Bob and I had needs to press on.
At kilometre 19.5, a couple of channel markers warned of shallow depths – or maybe some 'monster' lurked below!!!!!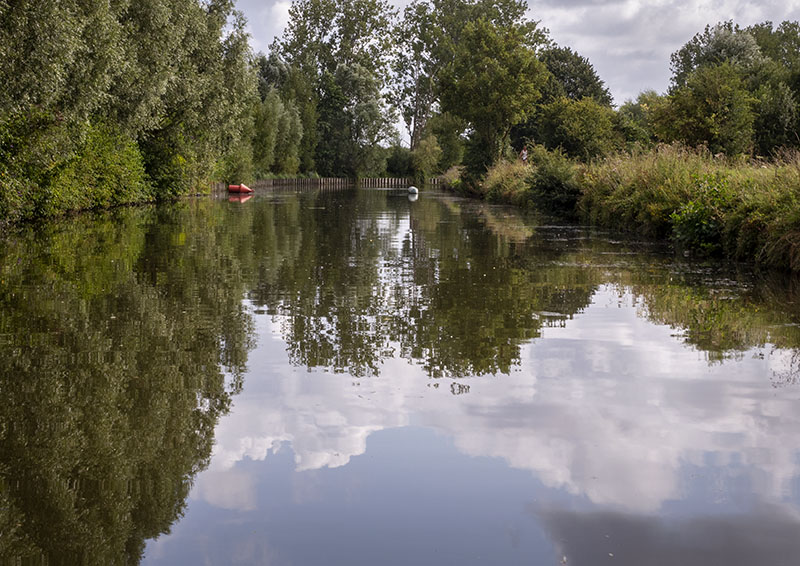 By mid – morning, we had exited through the last of the French lifting bridges and at the final bend of the day crossed the Belgian border, thereby completing our cruise on the most picturesque French side of this Roubaix, L'Espierres canal system.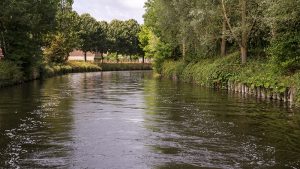 Once moored, here at Leers Nord, we had been instructed to moor then call the Belgian operators so as to continue on our way.
On making contact, it turned out there was a boat was ahead of us and the workers desired to take it all the way through what was now the l'Espierres Canal before returning to us. Bob was informed they would ring us when time.
Midday came and went with no show, so we decided it must be the worker's lunch break. Having dined ourselves, and the morning's rain squalls at last past, Bob and I made another of those 'on the spur of the moment decisions'. We really liked the peaceful setting and the aromas wafting upon the air from the restaurant situated only metres away were truly tantalising. Finding power and water available on the dock, cemented things: it was close to two and we were spending the night.
Onto the phone went Bob to inform the lock operators. They didn't speak English and had difficulties understanding Bob's French, so he hoped the lad had understood.
It was now time for a meander. You wouldn't believe it, but as we were checking out the lock, the operator arrived. There is nothing better than a face to face chat when language barriers are an issue. It wasn't long before a 10am departure for the morn had been organised, and we were soon watching a pleasure barge approaching. You could have struck us down with a barge pole when we sighted an Aussie flag at its bow!
A quick hello to the Aussies, then bikes unloaded from Gratis, into Leers Nord and Leers went we. Farming communities on the outer edges, these towns are beautifully maintained and very different to the old manufacturing area of Roubaix.
A fantastic little restaurant is situated right outside the lock and it was there that Bob and I dined with the Australians, Howard and Deb, and their Dutch friends, Jeam – Marie and Leona. The main menu isn't large and being allergic to both wheat and shellfish meant there was no item available to me, but the waiter – what a character he was – had a cheese platter with salad arranged on a 25cm square board: with at least six well sized varieties of cheese on either side of the board, it was gigantic to say the least and far more than I could eat. Nipping back to Gratis, I grabbed a couple of slices of bread and was made! The remainder of the group chose either the Paella or Mussel dish. Throughout the afternoon, enticing aromas had wafted upon the air and tickled the nose, so when gigantic bowls of steaming hot food that smelt divine and looked just as appetizing arrived, conversation ground to a halt as everyone dug in. There is nothing like it, when the food tastes as good as it appears, and this was certainly the case here.
Our Notes